STALKER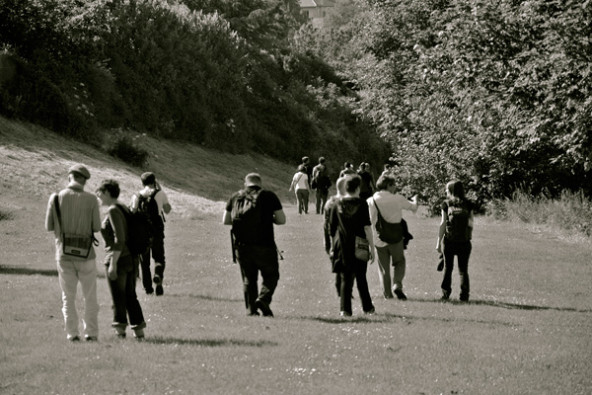 Stalker is a collective subject, found in 1995, that engages research and actions within the landscape with particular attention to the areas around the city's margins and forgotten urban space, and abandoned areas or regions under transformation that are referred to here as "Actual Territories."
Stalker promotes interventions based on the spatial practices of exploration, listening, relation and on creative interactions with the environment, its inhabitants and their "archives of memories". These processes aim to generate social and environmental relations that are self-organised and evolve over time. The sensitive and dynamic mapping of territories and communities generated through these processes remains easy to access. These interventions promote knowledge sharing, collaborative projects and raise the awareness of communities towards their territory and their cultural environment.
From 1999 to 2007, Stalker, with the Kurdish community of Rome, squatted the building of the ex-veterinarian in Campo Boario (ex slaughter house), naming it "Ararat", in order to experiment a new shape of contemporary public-space, based on the acceptance, hospitality and self organization.
Since 2002 Stalker promotes an interdisciplinary research network named Osservatorio Nomade. A net shaped each time around a research and action site, just like it happened for Suilettidelfiume (2007), Campagnaromana (2006) and Immaginare Corviale (2003 – 2005) in Rome; along the via Egnatia (2003 – 2004) from Rome to Istanbul, across the Roma world from Rome to the ex Yugoslavia, with Campus Rom (2008), PrimaveraRomana (2009-2012). Since 2009 Stalker has been running three different projects, Stalker Walking School, Arti Civiche, Museo Relazionale. Ongoing project in Rome: Walking out of Contemporary (from 2014).